Arroz a Banda
2018-03-17
Prep Time :

0m

Cook Time :

0m

Ready In :

0m
Ingredients (6 serves)
(these are the one I founded in US)
Broth
1 Dorada

3 medium red mullets

2 Seppioline  (heads)

2 Prawns with heads

6 Langustines

1/2 Leek

1 Red onion

1 bay leaf Salt
Rice
2 Seppioline (bodies)

4 Prawns

3 Cups of Rice (Spanish Calasparra Bomba)

saffron

2 medium ripe tomatoes

2 cloves of garlic

1/2 medium red onion

Salt and virgin olive oil
Alioli sauce
1/2 clove of garlic

1 egg

Salt

3/4 of a glass of mild olive oil
Elaboration
Broth
A good broth is the basis of rice a banda

In a pot with the water put all the fish, the onion peeled and cut, the laurel and a little salt.

Bring to a boil, reduce the heat, and cook for about 20 minutes.

Remove the seafood that you want to serve with the rice.

Press the rest of the fish to get all the juice, strain, reserve the broth and set aside the fish.
Rice
0- You should cook all ingredients in the paella pan to add all the flavors to the rice
1- Heat 3 ó 4  table spoons of olive oil and salt in the paella pan and put over medium heat
2- Fry the seppiolines and prawns ( 2 minutes),  crush the heads so that the juice comes out. Remove and reserve
3- Add the finely chopped onion with the garlic and fry and stirring often until smooth.
4- Add the previously striped tomatoes and continue cooking until the tomato changes color, evaporates the juice and reduced as jammy sauce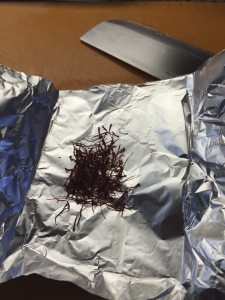 5- Put the saffron in aluminum foil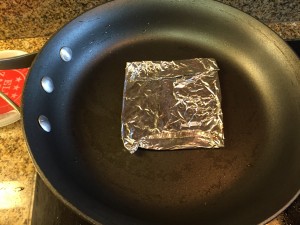 6- Toast in a pan, until you feel the arome of the saffron
7- Put the toasted saffron in the pan with the tomato
8- Add the previously fried chopped seppiolines and prawns. Add the rice and stir well until all the grains are coated
9- Pour the hot broth (6 1/2 cups) over the rice, stir well and spread the rice out evenly in the pan. Do not stir ever again. Cook over a high heat for about 5 minutes
10- Add the the seppiolines and the prawns. Check the salt point
11- Cook about 15 min more on low heat (if the fire of the stove is not large enough, use the oven 180F lowering it successively to 140F)
12- Remove from heat, cover with kitchen paper (if it looks dry moisten the paper), let stand 8 minutes and serve in the same paella pan.
13- This kind of rice matches perfectly with "ajoaceite or alioli"
14- You can serve the langoustines and the prawns, used in the broth, on the side
Notes:
In this kind of Spanish recipe, the only ingredients you will find in your plate, in the addition to the rice, will be the chopped seppiolines and the prawns
This recipe is not cheap, you can change some of the seafood ingredients for other cheaper if you want to reduce the $$
Alioli sauce
Place the chopped the garlic clove, the egg, a pinch of salt, the mild olive oil. Insert the blender to the bottom and start beating without moving the blender. When you start to emulsify, move the blender arm gently up and down until it is well homogenous

Recipe Comments