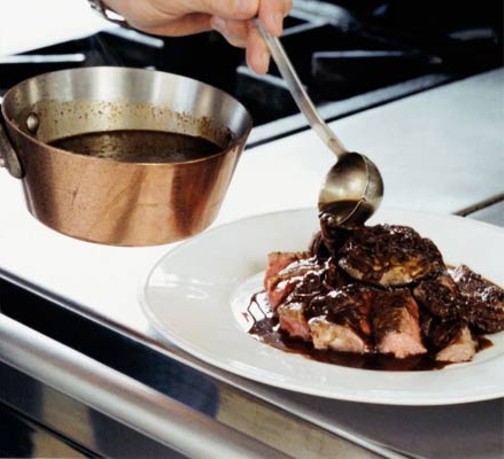 Ingredients
250g de chalotas
4 cucharadas de aceite de oliva
ramita de romero
400 ml de vino tinto
nuez de mantequilla4 tbsp olive oil
Elaborción
Saltee las chalotas en una cacerola mediana con el aceite a fuego alto durante unos 3 minutos hasta que estén ligeramente doradas, revolviendo con frecuencia. Sazone con pimienta negra molida y agregue el ajo y el romero.
Continúe cocinando durante 3 minutos más, revolviendo con frecuencia para evitar que se quemen las chalotas.
Vierta el vinagre y cocine hasta que se evapore hasta formar un almíbar, luego vierta el vino y cocine hasta que se reduzca en dos tercios.
Verter el caldo y llevar a ebullición.
Baje el fuego y cocine a fuego lento hasta que se reduzca nuevamente en dos tercios, a alrededor de 250 ml. Retire el ajo y el romero.
Agrega un poco de sal al gusto y finalmente 'monte' (bate) en una nuez de mantequilla.
Agregue los jugos de los filetes justo antes de servir.
Sauté the shallots in a medium saucepan with the oil over a high heat for about 3 mins until lightly browned, stirring often.
Season with ground black pepper and add the garlic and rosemary.
Continue cooking for a further 3 mins, stirring often to prevent the shallots burning.